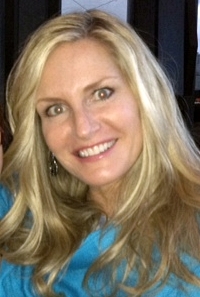 Books are in my blood. I hoard and obsess over them like a fetishist. When an official from the local library visited our house when I was eleven years old, demanding the return of dozens of long overdue books, I refused. They were mine, I argued, and I could prove it—I'd written my name in all of them.
The origin of this obsession is no mystery. Adopted at six weeks old, I was raised by parents who revered books. My father was an aerospace engineer fascinated with Amelia Earhart and WWII, my mother was a Jersey girl who adored Frank Sinatra and did the New York Times crossword puzzle every day—in pen. When I was growing up, our house was littered with newspapers, magazines, library books, paperbacks and hardcovers, and about thirty years' worth of the National Geographic Magazine.
After several years working in the corporate world as a headhunter after college, I realized I'd never be a successful employee because I loathe bureaucracy and meetings. So I parlayed my recruitment background into entrepreneurship and founded a temporary employment agency. Self-employment fit my non-conformist personality well. When I met my husband—another creative non-conformist—we started a floral and event design company together. We've been working together successfully for more than seventeen years.
I always knew I'd eventually write a book of my own, but it wasn't until I turned forty that I felt I'd done enough reading of other people's work, and started my first novel. When it was published, my father was so proud he bought copies for all his friends—not realizing quite how "spicy" the book was. ("Sex in a tree?" he said with bewilderment.)
Since then I've written fifteen more novels. When I'm not writing, I'm reading, drinking wine, surfing the internet, and daydreaming about all the things I'm going to be when I grow up. I live near the beach in Los Angeles with my husband and deaf/demented rescue kitty, Ginger.
OFFICIAL BIO:
J.T. Geissinger writes smart, edgy love stories with bad boys, strong women, and sex that will fog your kindle. Her novels span several romance genres, including contemporary, paranormal, romantic suspense, and romantic comedy.
She is the recipient of the Prism Award for Best First Book, the Golden Quill Award for Best Paranormal/Urban Fantasy, and is a two-time finalist for the RITA® Award from the Romance Writers of America®, in both the paranormal and contemporary categories. Her work has also finaled in the Booksellers' Best, National Readers' Choice, and Daphne du Maurier Awards.
Join her Facebook reader's group, Geissinger's Gang, to take part in weekly Wine Wednesday live chats and giveaways, find out more information about works in progress, have access to exclusive excerpts and contests, and get advance reader copies of her upcoming releases.
Stalk her on Instagram at @JTGeissingerauthor, on Twitter at @JTGeissinger and on Facebook